Many people believe credit unions are accessible only to employees of certain businesses or people of a particular faith or who attend a specific school etc. While this has been true in the past, and remains true of some credit unions today, membership with TCU is open to thousands in the Ozarks!
You may become a member TelComm Credit Union if you live or work (or have family who lives or works) in Greene, Christian, Lawrence, Webster, and Polk counties in southwest Missouri.
In 2018, TCU merged with Springfield Catholic Credit Union. Following this merger, people of the Catholic faith, or with an immediate family member of the Catholic faith, or who belong to an organization in the Diocese of Springfield/Cape Girardeau Pastoral Regions 1, 2, 3, 4 and 5 may also become members of TelComm. These regions include the counties mentioned above as well as the additional counties of: Barton, Jasper, Newton, McDonald, Cedar, Dade, Barry, Stone, Dallas, Webster, Taney, Laclede, Wright, Douglas, Ozark, Howell, Oregon, Shannon and a portion of Texas County.
Once a member you are always a member, so even if your circumstances change or you move away, your membership with TCU will remain as long as your account is open and active.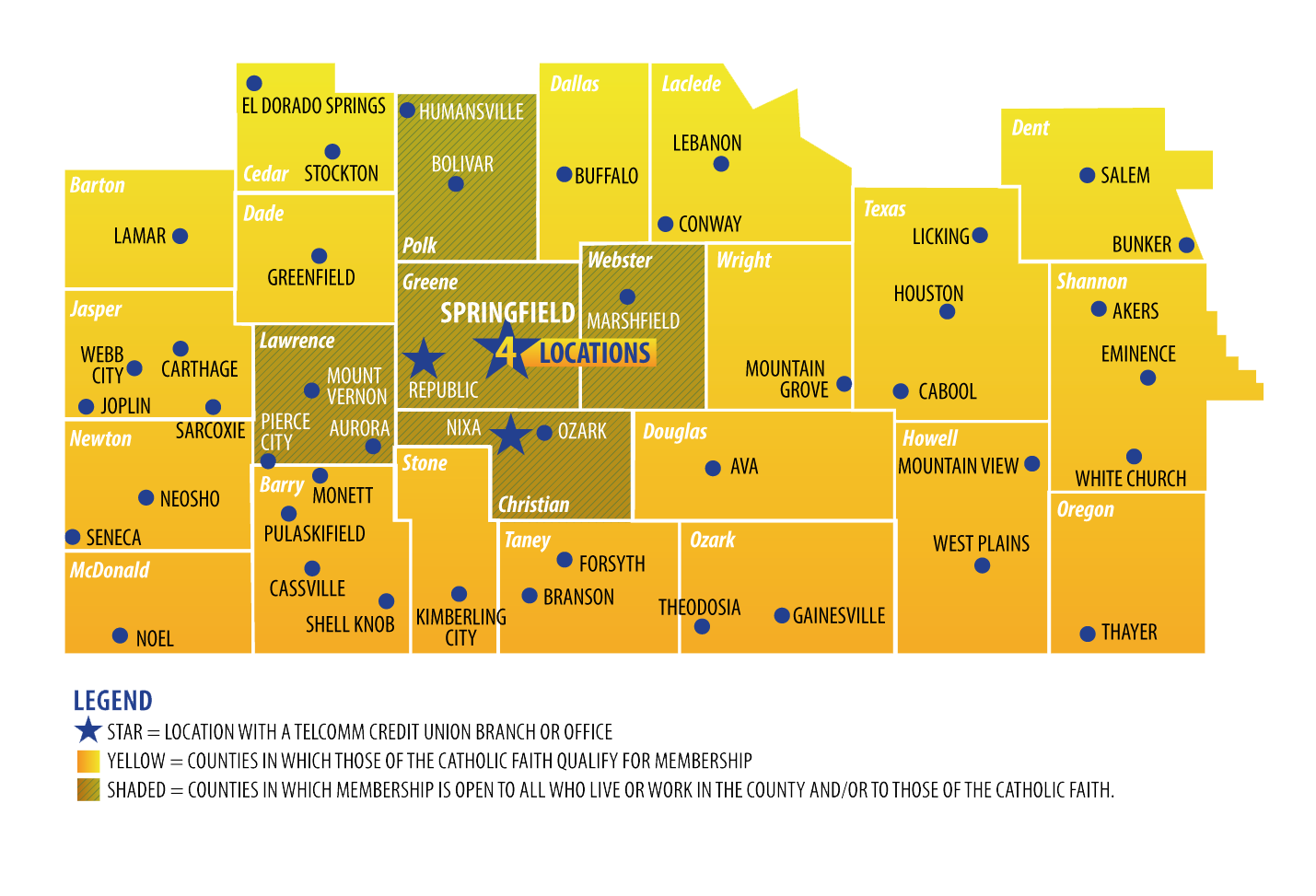 A
Aire-Master
Alandsons, Inc.
All Comm Business Systems
American National Property and Casualty Insurance (ANPAC)
Apex Building Maintenance
AT&T
Audio Acoustics
B
The Bakehouse
Best Bilt Parts Co. Inc.
Birch Tree Place
Bob's Automotive
Bohrer, Croxdale, McAdoo
Boyer's Tel-Com Service
Bug Zero Pest Control
C
C & S Roofing
Cambridge Lab
Cantrell-Barnes Printing
Carlisle Belts by Timken
CATT Cedar Valley Wood
Clariant
Clearview Window Cleaning
Creative Associates
Credit Union Employees
D
Dancey Collision
Debco Property Management
Diversified Plastics
Dogwood Trails Girl Scouts
Dr. Jeffrey S. Rick, DDS
Ducoa
E
EDCO
Ellett Memorial Hospital
Erickson Transport
Evans & Green Atty.
Executive Coach Builders
F
Five Star Construction
Fleet Services Of SWMO
H
H.B. Wall & Sons, Inc.
Hermann Hospital
Hermitage Exp. Inc.
I
IHeartMedia
Indiana Western Express (IWX)
J
Johnson Co.
Journagan Construction
K
KCR International
Kohl's Department Store
KOLR TV-10
KOZL TV-27
KYTV-3
L
Lacoba Homes
Lamplighter Inn
Loren Cook
Losh Communications
M
M&K Properties
MD Publications
Maiman Co.
Management Enterprises
McLean Enterprises
Metro Housing Finders
Micro Innovations
Midwest Products Group
Midwest Window & Door
Milan Healthcare
MWM Dexter Color Press
N
Naremco, Inc.
Nattinger, Inc.
New Covenant Academy
News-Leader
O
O'Dell & Co. CPAs
Olympia Foundry
Ozark Industrial Lighting
Ozark Structures
Ozark York
Ozarks Methodist Manor
P
Paramount Cap Co.
Parkcrest Dental
PENMAC
Penny Power
Peterbilt of Springfield
PAR Remanufacturing
Pinnacle
Plaza Optical
Plaza Realty
PROTEL Systems
Q
Quality Inn & Suites North
R
Rogers Enterprise A-1 Muffler
Rust Services
S
Smith Flooring
Snack & Break
Sound/Lighting Specialists
Southwestern Bell
Spokane R-VII Schools
Springfield Brake Co.
Springfield Business Journal
Springfield Grocer
Springfield Marine
Springfield Medical Lab
Springfield Residential Center
Springfield Trust Company
Stone Container Corp.
Stone County Courthouse
Stone County Garment Co.
Stribling Surveying, LLC
Superior Cleaning Services
Surgery Center Of Springfield
Syntex
T
TeleQuest
The Shutter Shop
Town & Country Enterprises
U
Unified Construction, Inc.
United Parcel Service
United Way
V
Vacation Channel
Vision Quest Inc.
W
White House Communications
Willow Health Care
Wilson Surveying
Windstream Communications
Y
Youngblood Chrysler Dodge Jeep Ram
Lobby Hours:
Monday–Thursday:
9:00 A.M. – 5:00 P.M.
Friday:
9:00 A.M. – 5:30 P.M.
Saturday:
9:00 A.M. – 12:00 P.M.
Drive Thru Hours:
Monday–Friday:
7:30 A.M. – 5:30 P.M.
Saturday:
9:00 A.M. – 12:00 P.M.
Lobby Hours:
Monday–Thursday:
9:00 A.M. – 5:00 P.M.
Friday:
9:00 A.M. – 5:30 P.M.
Saturday:
9:00 A.M. – 12:00 P.M.
Drive Thru Hours:
Monday–Friday:
7:30 A.M. – 5:30 P.M.
Saturday:
9:00 A.M. – 12:00 P.M.